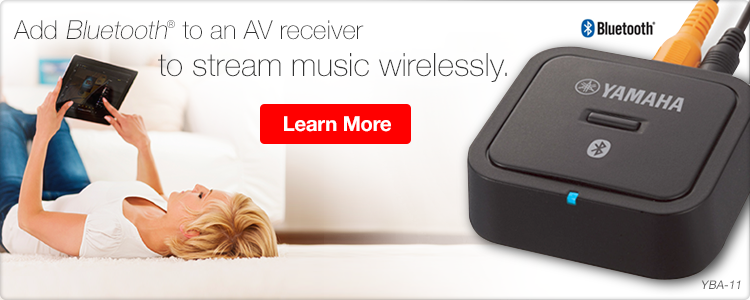 Product Lineup
1 - 10 of 16 products listed below
List by:

Current Products
Sort by:

Title:A-Z
MSRP: $149.95

Optional Wall-Mount Bracket for ISX-800
MSRP: $599.95

Use this Cartridge to replace the Lamp on DPX-1000 DLP Projectors
MSRP: $599.95

Use this Cartridge to replace the Lamp on DPX-1100/1200/1300 DLP Projectors
MSRP: $599.95

Use this cartridge to replace the lamp on LPX-500 LCD projectors.
MSRP: $599.95

Use this Cartridge to replace the Lamp on LPX-510 LCD Projectors
MSRP: $99.95

Safely and easily mount the Yamaha YSP-3300 and YSP-4300 Digital Sound Projectors to the wall with this optional bracket. If you have a wall mounted flat panel unit, this is the best way to ensure perfect placement of your multi-beam speaker system.
MSRP: $79.95

Wall Mount Bracket for the Yamaha Digital Sound Projectors, models YSP-4000, YSP-3000, YSP-900 and YSP-800.
MSRP: $69.95

With the YBA-11, you'll be able to stream music wirelessly from a BLUETOOTH® capable smartphone, tablet or computer to the AV receiver. Enjoy music stored on your devices without the need for a Wi-Fi environment. Thanks to the digital connection and aptX...
MSRP: $49.95

The YDS-CBL15 is ideal for installations where a Yamaha dock will be placed a longer distance away from the connected device. This 15 foot extended length cable replaces the supplied 6.5 foot YDS-12, YDS-11, YDS-10, or YBA-10 cable

Wireless Dock System for iPod/iPhone

MSRP: $179.95

YID-W10 is a wireless system designed for iPod/iPhone series. YID-W10 employs the Yamaha "yAired" technology to establish a wireless connection with another Yamaha dock-compatible component.
Return to Top