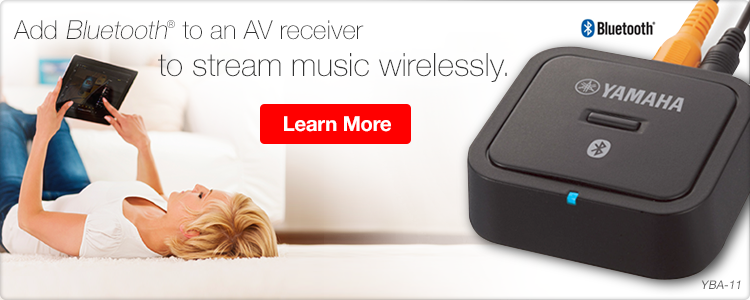 Product Lineup
1 - 10 of 18 products listed below
List by:

Current Products
Sort by:

Price:Low-High
MSRP: $49.95

The YDS-CBL15 is ideal for installations where a Yamaha dock will be placed a longer distance away from the connected device. This 15 foot extended length cable replaces the supplied 6.5 foot YDS-12, YDS-11, YDS-10, or YBA-10 cable
MSRP: $59.95

The YIT-W12 is a wireless transmitter designed for use with Apple iPod, iPhone and iPad devices, as well as with PC and MAC computers via an included USB cable. The YIT-W12 employs Yamaha yAired technology to establish a connection with select Yamaha pro...
MSRP: $69.95

With the YBA-11, you'll be able to stream music wirelessly from a Bluetooth capable smartphone, tablet or computer to the AV receiver. Enjoy music stored on your devices without the need for a Wi-Fi environment. Thanks to the digital connection and aptX®...
MSRP: $79.95

Wall Mount Bracket for the Yamaha Digital Sound Projectors, models YSP-4000, YSP-3000, YSP-900 and YSP-800.
MSRP: $99.95

The YRB-100 sound reflection boards are designed for use with Yamaha Digital Sound Projectors in environments where a wall or walls are not available to provide an optimal bounce area for the sound beams. Includes a set of two sound boards.
MSRP: $99.95

Wireless Network Adapter The Yamaha YWA-10 wireless network adapter can be used to connect a Yamaha network AV receiver to a wireless home network. The YWA-10 connects to the Ethernet port on the back of your Yamaha network receiver and communicates ...
MSRP: $99.95

The YDS-12 provides the easiest way to connect and control your iPod from dock enabled Yamaha products. Made for iPhone 4, iPhone 3GS, iPhone 3G, iPhone, iPod touch (1st, 2nd and 3rd generation), iPod classic, iPod with video, iPod with color display, iP...
MSRP: $99.95

Safely and easily mount the Yamaha YSP-3300 and YSP-4300 Digital Sound Projectors to the wall with this optional bracket. If you have a wall mounted flat panel unit, this is the best way to ensure perfect placement of your multi-beam speaker system.
MSRP: $149.95

YIT-W10 is a wireless transmitter designed for iPod or iPhone series. YIT-W10 employs the Yamaha "yAired" technology to establish a wireless connection with another Yamaha product that supports "yAired" and enables playback of the iPod or iPhone on your ...

Wireless Dock System for iPod/iPhone

MSRP: $149.95

YID-W10 is a wireless system designed for iPod/iPhone series. YID-W10 employs the Yamaha "yAired" technology to establish a wireless connection with another Yamaha dock-compatible component
Return to Top