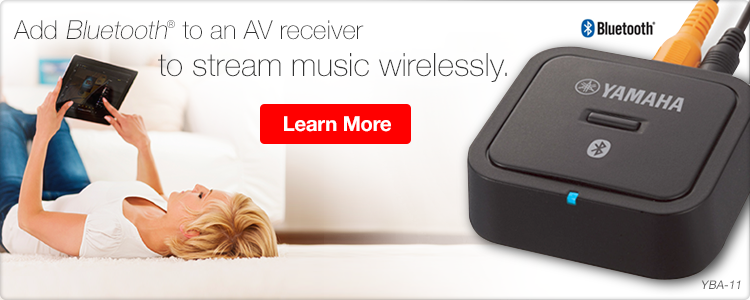 Product Lineup
1 - 10 of 19 products listed below
List by:

Discontinued Products
Sort by:

Title:Z-A
MSRP: $9.95

Mounts easily to the front panel of any audio/video component built-in LED confirms that commands have been received compatible with virtually all brands of IR remotes 3.5mm connectors. Typically used with the neoHD Media Controllers.

iPod Dock with iPod Touch (iPod Touch not included)

MSRP: $99.95

The YDS-11SL dock is compatible with all the latest iPods, including the iPod touch, iPod nano, iPod mini, and iPod Classic while still providing the easiest way to connect and control your iPod from dock enabled Yamaha products.
Connecting your iPod to your home theater system has never been easier, or sounded so good!

Bluetooth wireless Audio Receiver

MSRP: $129.95

The YBA-10 Bluetooth wireless Audio Receiver docks to the receiver and supports A2DP audio streaming, so users can enjoy music wirelessly from Bluetooth-enabled mobile phones, Windows PCs and Macs.
Please note that this App has been discontinued and replaced with a new App titled AV CONTROLLER. Please visit the Yamaha product page for your model and click on the App tab for more information on downloading the AV CONTROLLER App. This application...
MSRP: $349.95

Ceiling mounting bracket for the DPX-830 Projector on Low Ceiling

Low Ceiling Installation Bracket

Ceiling mounting bracket for the LPX-510 LCD Projector on Low Ceiling

Low Ceiling Installation Bracket

Ceiling mounting bracket for the DPX-1000/1100/1200/1300 DLP Projector on Low Ceiling
Return to Top