With the knowledge and expertise of over 100 years of manufacturing musical instruments, Yamaha combines the best in technology and craftsmanship in the development of Portable Keyboard products.

Beginners and Pros alike turn to Yamaha Portable Keyboards for learning, creating, perfecting, and performing. Whether you are looking for a piano-focused keyboard such as the Piaggero or Portable Grand series, or a feature-rich instrument with unmatched technology like the PSR-E or EZ series, you'll find the perfect musical companion for you in the Yamaha Portable Keyboard lineup.
Yamaha Portable Keyboard Line
Entry Level and Lighted Keys
Plenty of fun sounds and an advanced set of helpful learning tools are built into these portable instruments, letting you teach yourself how to play and perform.
Entry Level Portables
EZ220
Piaggero Slim/Light
The Piaggero series gives you classic Yamaha piano tone in an ultra-portable, slim keyboard. Weighing in at around 12 pounds, the Piaggero NP series can go everywhere with you and you can even run them on battery power. With piano focus in mind, these instruments range from simple to feature-rich, offering you a wide range of musical opportunity, at home, or on the road.
Piaggero Series
Portable Grands 76/88 Keys
The Yamaha Portable Grands have an easy-to-use panel, a wealth of piano-centric features including piano-style keys, Graded Soft Touch (GST) action with different levels of resistance and a high resolution stereo piano sample.
Portable Grands
Why Yamaha?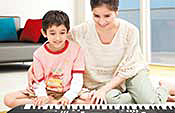 Yamaha Education Suite (Y.E.S.)
Yamaha Education Suite teaches you to play by breaking down songs into individual components, like pitch and rhythm, and reconstructing them once mastered. You can practice one hand of a song alone while the instrument plays along with the other. WAITING mode pauses the accompaniment until you play the notes indicated on the display. YOUR TEMPO mode monitors playing and adjusts the tempo according to your accuracy. MINUS ONE mode lets you play the piano part start-to-finish, and gives you a grade at the end.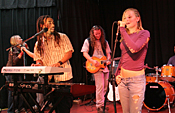 Join The Band
With a stunning variety of Instrument Voices and backing Styles, Yamaha Portable keyboards open the door to a world of musical enjoyment. Simply select your favorite sound, pick a style of music, and these keyboards will follow your playing like an orchestra following a conductor!
Portability
Most of the digital keyboards are easy to transport from room to room or gig to gig. The Piaggero line takes this to the extreme with a keyboard that easily transports under one arm, yet boasts piano-style keys, real piano sound, easy to navigate panel and can run off an adapter or batteries. Great sound without compromise. Amazing!
Yamaha Apps
NoteStar (for iPad)
Experience playing and singing your favorite songs with a real band. NoteStar is Yamaha's digital sheet music application for the iPad that features hands-free, smooth-flowing, easy-to-read digital sheet music accompanied by real audio backing tracks with vocals. The app features unique mixing tools that allow you to listen to and play along with band, or isolate the keyboard, vocal, and independent left and right hand keyboard parts for reference. Adjust the tempo and transpose any song to make learning new songs easier, and enjoy a refreshing new musical experience!
For more details: http://usa.yamaha.com/products/apps/notestar/
Series Lineup
New Line-up of 76 Key Piano-Focused Keyboards
Never played before? Yamaha's lighted key and fret instruments will have you playing built-in songs from the very first day.
Plenty of fun sounds and an advanced set of helpful learning tools built into the instrument, letting you teach yourself how to play and perform.
High quality piano sound and 88 piano-style box keys offer incredible value to the piano-oriented user.
Other Products
1 - 2 of 2 products listed below
List by:

Discontinued Products
Sort by:

Latest
Return to Top