From the original SY-1, CS80, DX7 and VL1 to the industry-leading Motif series, Yamaha has over 40 years of synthesizer research, development and innovation. Coupled with a wide range of Synth Voice Libraries from yamahamusicsoft.com and an online support community at yamahasynth.com, Yamaha Synthesizers offer unsurpassed inspiration, expandability and support.
Yamaha Synthesizer Line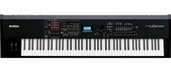 MOTIF XF
MOXF
MX
S-Series
YamahaSynth.com
For owners of current, legacy and vintage Yamaha Synthesizers looking to get the most out of their instrument, yamahasynth.com is an online community connecting users directly with Yamaha support. Accept no substitute! yamahasynth.com has the baddest mister in town!
Yamaha Synthesizer Features
Balanced Hammer (BH) with Aftertouch
Unlike a graded action where the lower keys have a heavier action than the higher keys in order to replicate the feel of an acoustic piano, BH or Balanced Hammer action has keys that are evenly weighted across the entire keyboard. This action allows versatile feel when playing acoustic or electric pianos, organs, clave or other synth Voices.
8-Element Motif Sound Engine
The core of the Motif Sound Engine starts with 8 elements that can be layered together, zoned in different areas of the keyboard, switched by velocity or other means, cycled so every key-press advances to a different sample or randomized for experimental results. These elements can then pass through envelope generators to give the sound shape, low frequency oscillators to introduce vibrato and tremolo, filters that provide timbre to the sound and a huge palette of effects to add reverb, delay, rotary speakers, stomp boxes and more.
FSX Action with Aftertouch
FSX action is a premium synthesizer action with aftertouch. Physically, the keys use a high-precision manufacturing process for an incredibly durable keybed, enhanced key stability and "fast" action. The keyboard also features enhanced touch response and an extremely controllable aftertouch for highly expressive playing.
Flash Memory Expansion
Flash Memory provides an area for users to install sample and waveform content they've created or downloaded from yamahamusicsoft.com. Once installed, this data remains in non-volatile memory meaning it's there until deleted, even if the power is turned off. This allows anyone to create the best sample, waveform, Voice, et al. content ever created - their own!
VCM (Virtual Circuit Modeling) Effects
Virtual Circuit Modeling re-creates the sound and behavior of vintage effects and high-end studio signal processors by modeling the circuits down to the original analog component level.
Synth Voice Libraries
Expand your Yamaha Synthesizer with Synth Voice Libraries from yamahamusicsoft.com. Add instrument sounds like acoustic and electric pianos, organs, drums and more to customize your synthesizer's sonic palette to the way you make music.
Series Lineup
Celebrate 40 years of Yamaha Synthesizers with a special edition MOTIF XF white
New Generation of MOTIF music production synthesizers includes flash expandability and a seamless music production flow.
The new MOXF music production synthesizer workstation series combines a MOTIF XF sound engine and Flash memory expandability, a MIDI keyboard controller with extensive DAW and VST control, USB Audio/MIDI interfacing, onboard sequencing, and an extensive ...
At the core of the MX series music synthesizers are carefully selected sounds taken from the world famous music production synthesizer, the Yamaha MOTIF XS. That powerful sound arsenal is packed into a slim and sleek package (available in 49 and 61 note ...
The new S Series music synthesizer has the sounds of Motif XS and the ease of use of a stage piano, so it's your perfect performance partner.
Street Smart Synth with Motif Sounds
Other Products
11 - 20 of 49 products listed below
AWM Synthesizer Workstation for the home of studio
FM Digital Synthesizer for home or studio use.
Vector Synthesis Controls Dual Tone Extraordinary Expressive Power
61 Key Digital Programmable Algorithm FM Synthesizer
Digital Programmable Algorithm FM Synthesizer for home or studio use
Digital Programmable Algorithm FM Synthesizer for home or studio use
Return to Top