From the original SY-1, CS80, DX7 and VL1 to the industry-leading Motif series, Yamaha has over 40 years of synthesizer research, development and innovation. Coupled with a wide range of Synth Voice Libraries from yamahamusicsoft.com and an online support community at yamahasynth.com, Yamaha Synthesizers offer unsurpassed inspiration, expandability and support.
Yamaha Synthesizer Line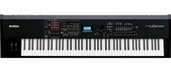 Montage
MOTIF XF
MOXF
MX
S-Series
YamahaSynth.com
For owners of current, legacy and vintage Yamaha Synthesizers looking to get the most out of their instrument, yamahasynth.com is an online community connecting users directly with Yamaha support. Accept no substitute! yamahasynth.com has the baddest mister in town!
Yamaha Synthesizer Features
Balanced Hammer (BH) with Aftertouch
Unlike a graded action where the lower keys have a heavier action than the higher keys in order to replicate the feel of an acoustic piano, BH or Balanced Hammer action has keys that are evenly weighted across the entire keyboard. This action allows versatile feel when playing acoustic or electric pianos, organs, clave or other synth Voices.
8-Element Motif Sound Engine
The core of the Motif Sound Engine starts with 8 elements that can be layered together, zoned in different areas of the keyboard, switched by velocity or other means, cycled so every key-press advances to a different sample or randomized for experimental results. These elements can then pass through envelope generators to give the sound shape, low frequency oscillators to introduce vibrato and tremolo, filters that provide timbre to the sound and a huge palette of effects to add reverb, delay, rotary speakers, stomp boxes and more.
FSX Action with Aftertouch
FSX action is a premium synthesizer action with aftertouch. Physically, the keys use a high-precision manufacturing process for an incredibly durable keybed, enhanced key stability and "fast" action. The keyboard also features enhanced touch response and an extremely controllable aftertouch for highly expressive playing.
Flash Memory Expansion
Flash Memory provides an area for users to install sample and waveform content they've created or downloaded from yamahamusicsoft.com. Once installed, this data remains in non-volatile memory meaning it's there until deleted, even if the power is turned off. This allows anyone to create the best sample, waveform, Voice, et al. content ever created - their own!
VCM (Virtual Circuit Modeling) Effects
Virtual Circuit Modeling re-creates the sound and behavior of vintage effects and high-end studio signal processors by modeling the circuits down to the original analog component level.
Apps
Yamaha Synth Book
Yamaha celebrates over 40 years of Yamaha Synthesizers with the "Yamaha Synth Book" iOS app. Yamaha Synth Book features a complete history of Yamaha Synthesizers, AN2015: an integrated virtual analog softsynth, Music Remixer: a DJ audio phrase performance app, and serves as a portal to Yamaha's online synth communities.
Compatible instruments:
iPhone, iPad, and iPod touch. This app is optimized for iPhone 5
Mobile Music Sequencer
Wherever you are, you can now sketch the outline of a composition and use the ingredients to delicately craft songs on a Yamaha synthesizer or in Steinberg Cubase.
Compatible instruments:
iPhone 3GS/4/4S/5, iPod touch 4th/5th Generation, iPad (3rd/4th generation), iPad2 (2nd generation), iPad mini
Synth Arp & Drum Pad
The latest version of Synth Arp & Drum Pad lets you create fabulous phrases and beats of your own design! It's more powerful than ever with these new features:
Audiobus support (input only) (V1.2.0)
Perform an audio mixdown of recorded songs (V1.1.0)
Audio library (compatible with SoundCloud and AudioCopy) (V1.1.0)
An additional 19 tones and 24 arpeggiator patterns (V1.1.0)
There are 366 arppegiator patterns that can play phrases from all kinds of music genres like dance music, hip-hop, rock, pop, with one finger. The app has an internal synthesizer with 80 high-quality Voices including 13 drum kits so you can hear the output as you play. You can save your phrases by recording them in an easy-to-use loop sequencer. You can freely modify the tonal qualities of the sound even after recording.

* This application is Core MIDI compatible. Wi-Fi communication possible with Yamaha MOTIF XF (body version 1.2 or above) Alternatively, use the MIDI Interface i-MX1 or i-UX1 to communicate with all MIDI devices.
* A USB Wi-Fi adaptor, sold separately, is necessary for Wi-Fi communications.
Compatible instruments:
iPad (3rd/1st generation), iPad2 (2nd generation) * For best performance, we recommend that you use iPad2 or later.
Cloud Audio Recorder for MOTIF XF
Cloud Audio Recorder for MOTIF XF allows you to record MOTIF XF sound via Wi-Fi. And you can share your MOTIF sound on SoundCloud. Also you can copy & paste your sound to another iOS apps.
Compatible instruments:
iPhone3GS, iPhone4/4S, iPhone5, iPod touch 3rd gen or later and iPad
Synth Voice Libraries
Expand your Yamaha Synthesizer with Synth Voice Libraries from yamahamusicsoft.com. Add instrument sounds like acoustic and electric pianos, organs, drums and more to customize your synthesizer's sonic palette to the way you make music.
Series Lineup
Other Products
31 - 40 of 49 products listed below
List by:

Discontinued Products
The next generation MOTIF
If Music Is Your Vehicle Of Expression... Here Are Your Keys.
Control Synthesizer

61-Note Mid Range Control Synthesizer

Creative Sound Control that Expands to Your Demands
Unlimited Performance Potential Plus Total Music Production
Unlimited Performance Potential Plus Total Music Production
Yamaha MOTIF8 Keyboard Bag
Genetically Engineered to Seamlessly Integrate MIDI and Audio
Genetically Engineered to Seamlessly Integrate MIDI and Audio
Easy operation professional music production workstation featuring synthesizer, sequencer, full voice and song editing capabilities, large memory capacity and GM compatibility
Return to Top