ARIUS
Classic console digital piano series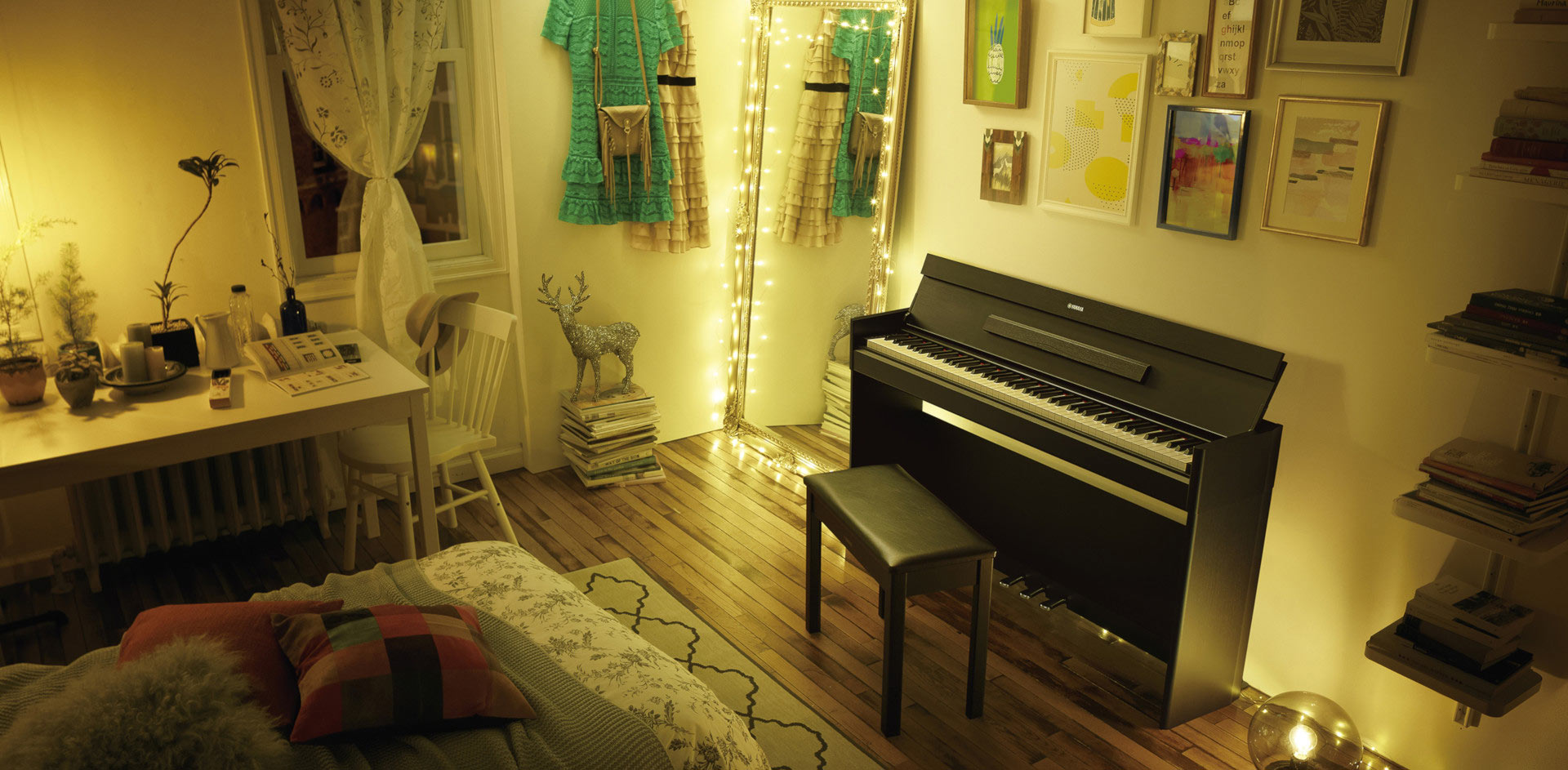 ARIUS
The little piano that could.
---
For over a century, Yamaha has crafted pianos fit for the world's most prestigious concert halls. Now ARIUS recreates the touch of a Yamaha acoustic piano and our flagship CFX concert grand sound to fit your home and your life. All with the sleek design, intuitive features and advanced technology you've come to expect from a Yamaha.
---
Our state-of-the-art recording method recreates the iconic Yamaha CFX sound, no concert hall required.

Graceful curves and a stylish design helps ARIUS to feel at home in any home.

Weighted keys reproduce the responsive, controlled touch you've come to expect in a Yamaha acoustic piano.

Our innovative Virtual Resonance Modeling (VRM) recreates the resonance of the soundboard, rim and frame to emulate the natural feeling of an acoustic piano. Even while wearing headphones.

Soft (una corda), sostenuto and sustaining (damper) pedals provide the essential feeling and control reminiscent of anfound on all acoustic pianos.

Practice duets, work quietly with a piano teacher or have a friend listen in. Dual headphone jacks make playing your piano twice as fun.

Selecting Voices and choosing settings is easier than ever. Simply connect your smart device by USB and use the Smart Pianist or Digital Piano Controller apps to help you do it.

Piano and Strings. Bass and guitar. French Horn and Cello. Dual Voice Mode lets you play two Voices at the same time for nearly infinite musical inspiration.

Arius makes it easy to record yourself, play along and share your performances. Record the right hand so you can practice the left. Listen back to hear your progress and more. The possibilities are endless. Arius makes it easy to record and share your performances. So you can give your recording engineer the afternoon off.

Our proprietary synthetic ebony and ivory keytops have a natural, comfortable feel that players of all levels can't wait to get their hands on.