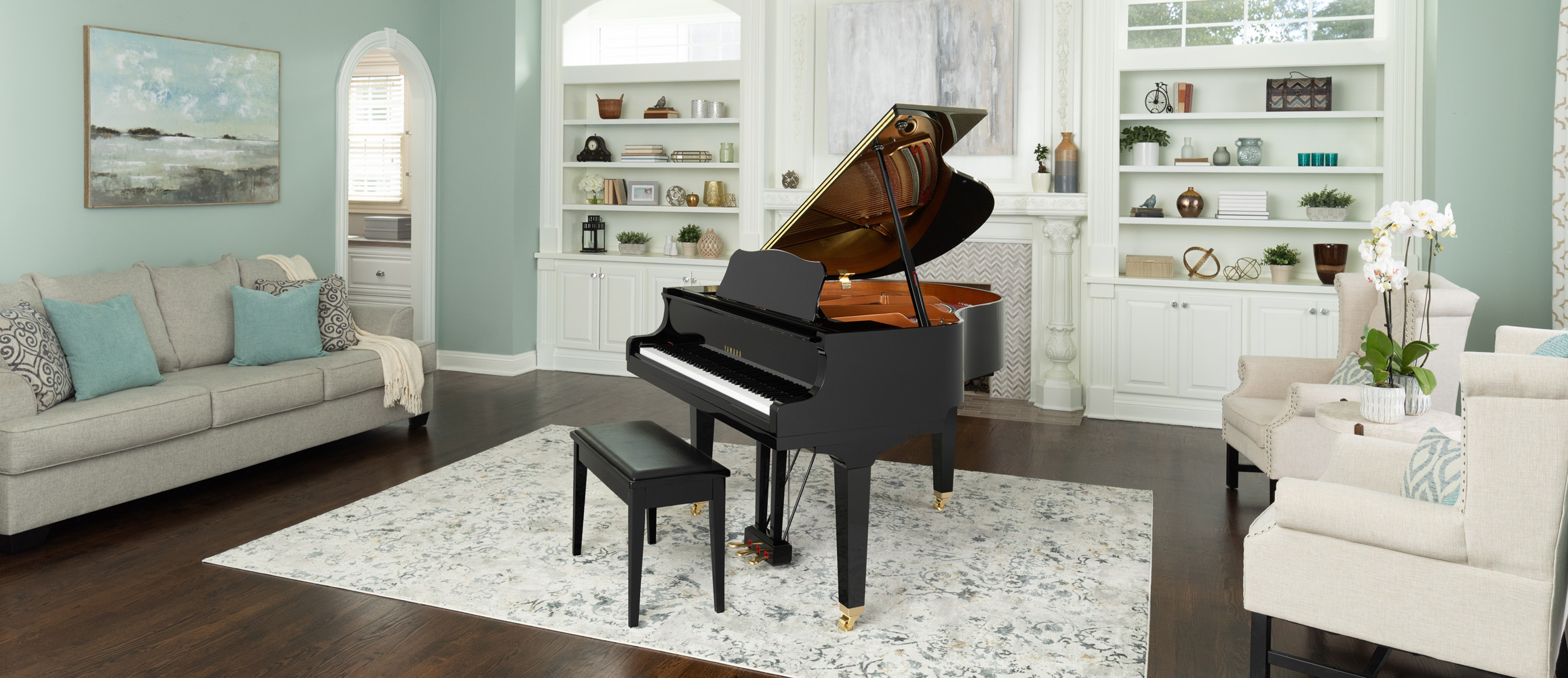 GB1K AND GC SERIES
This baby is a prodigy.
---
These aren't just baby grands. They're our babies. Yamaha designers, engineers and craftsmen were challenged to bring out the expressive tone, subtle colors and dynamics of a conservatory grand from a more compact instrument. The GB1K and GC Series put the unmistakable sound of a Yamaha grand piano in more places, and in reach of more people, than ever before.
---
Features
---
The GB1K and GC Series pianos may be small, but they have a powerful resonance and tone that brings out the subtle nuances of every note.

Great pianos start with the finest wood. Soundboards and ribs are crafted by Yamaha artisans using hand-selected spruce from our Kitami Wood Mill in Hokkaido, Japan.

These pianos share the robust back post design of our conservatory series pianos, giving them the powerful resonance, durability and tuning stability you might expect in a larger grand piano.

Bass strings are crafted and hand wound under the watchful eye of Yamaha artisans exclusively for each piano.

Yamaha was the first company to use an advanced Vacuum Shield Mold casting technology called V-Pro to create a stronger, lighter, more durable frame worthy of the grandest grand piano. Every frame is built to our exacting specifications at our Iwata Forge in Japan.

Our unique hammer felt, crafted in Japan, has been designed to bring out the subtle tones of the instrument, and is tested to withstand fluctuations in temperature and humidity and continue playing beautifully for years to come.
GB1K

Designed by Yamaha in Japan
Crafted by Yamaha in Indonesia
Soundboard: Spruce
Soundboard Ribs: Spruce
Back Posts: 3 – Merkus Pine
Bridge Construction: Two-piece separated
Frame: V-Pro Vacuum Shield Mold Process
Key Material: Seasoned spruce
White Key surfaces: Acrypet™
Black Key surfaces: Phenolic resin
Fallboard: Soft close
Pedal: Shift/Bass Sustain/Damper
Caster: Single-wheeled solid brass casters
Weight: 574 lbs (261 kg)
More info

Colors / Finishes

Polished Ebony

GC1

Crafted by Yamaha in Kakegawa, Japan
Soundboard: Spruce
Soundboard Ribs: Spruce
Back Posts: 3 – Merkus Pine
Bridge Construction: Two-piece separated
Frame: V-Pro Vacuum Shield Mold Process
Key Material: Seasoned spruce
White Key surfaces: Acrypet™
Black Key surfaces: Phenolic resin
Fallboard: Soft close
Pedal: Shift/Sostenuto/Damper
Caster: Single-wheeled solid brass casters
Weight: 627 lbs (285 kg)
More info

Colors / Finishes

Polished Ebony

GC2

Crafted by Yamaha in Kakegawa, Japan
Soundboard: Spruce
Soundboard Ribs: Spruce
Back Posts: 4 – Merkus Pine
Bridge Construction: Two-piece separated
Frame: V-Pro Vacuum Shield Mold Process
Key Material: Seasoned spruce
White Key surfaces: Acrypet™
Black Key surfaces: Phenolic resin
Fallboard: Soft close
Pedal: Shift/Sostenuto/Damper
Caster: Single-wheeled solid brass casters
Weight: 674 lbs (305 kg)
More info

Colors / Finishes

Polished Ebony