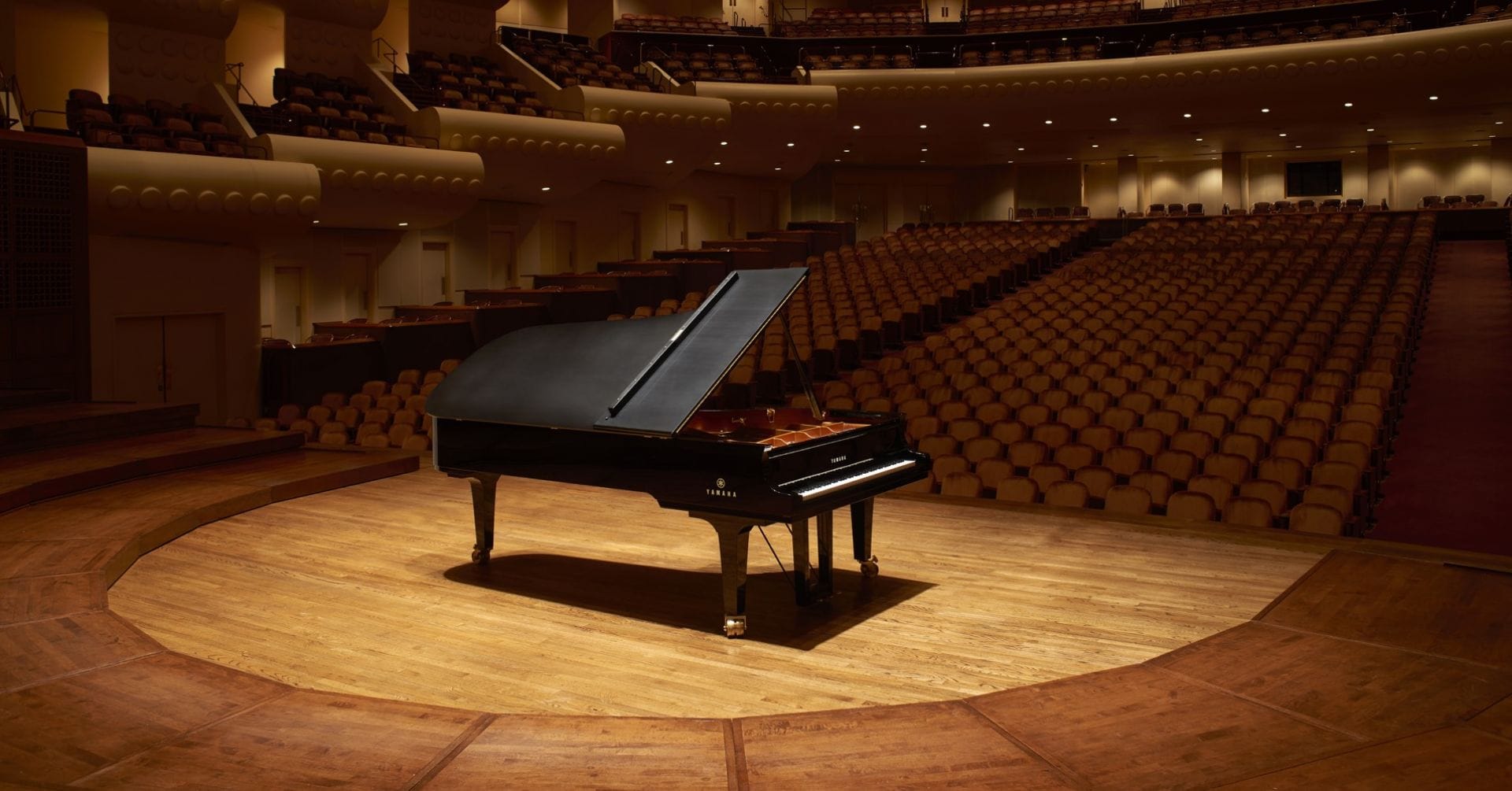 CF Series
Our flagship concert grand.
---
Our Flagship CF Series is the culmination of nearly two decades of research and development to create the world's finest concert grand piano. The CF is the rare union of clarity of tone and power that pianists crave. Each piano is crafted entirely by hand for a precise response that brings depth, nuance and an endless range of colors to the player's tonal palette. It is simply a superb instrument.
---
Features
---
Yamaha craftsmen hand-select the top one percent of wood from around the world at our Kitami Mill in Hokkaido, Japan. The inherent resonance of these woods, from European Spruce in the soundboard and ribs to mahogany and maple in the rims, helps give CF pianos their huge, well-rounded sound and extraordinary range of colors.

The CF soundboards, ribs, back posts and rims are crafted and assembled by hand in our Concert Piano Workshop in Kakegawa, Japan to assure that nothing gets in the way of the clear, rich vibrations of the wood.

The innovative shape and thickness of the back beam and posts help give CF pianos the backbone and power to fill the world's most famous concert halls with warm, nuanced sound.

Every CF frame is built by hand to our exacting specifications at our Iwata Forge in Japan.

Yamaha craftsmen spent nearly two decades experimenting with the shapes, sizes and materials of the hammers so they perform in perfect harmony with every part of the CF piano.

Our artisans painstakingly wind pure copper by hand to adjust the balance and tension of each bass string to the exacting standards and sound profile of every CF piano. You will hear the attention to detail in every note.

Each CF piano is meticulously voiced, regulated and tuned by master technicians in our Concert Piano Workshop to bring out the nuanced colors, harmonics and resonance from this superb instrument.

The finish of the CF is applied by hand, one layer at a time, and buffed to our stringent specifications using traditional methods. A semi-gloss finish is applied on the top board to reduce distracting reflections from stage lights.
CFX

Handcrafted by Yamaha master builders at our Concert Piano Workshop in Kakegawa, Japan
Rims: Mahogany and hard maple
Soundboard: European Spruce
Soundboard Ribs: European Spruce
Back Posts: 4 – Yezo Spruce
Bridge Construction: One-piece continuous
Frame: Hand-molded, sand casted iron
Tone Collector: Yes
Key Material: Seasoned Sitka Spruce
White Key surfaces: Ivorite™
Black Key surfaces: Ebony
Fallboard: Soft-close
Lid lock: Yes
Pedal: Shift/Sostenuto/Damper with adjustable lyre brace
Caster: Heavy duty double-wheeled solid brass casters with locks
Weight: 1,082 lbs (491 kg)
More info

Colors / Finishes

Polished Ebony

CF6

Handcrafted by Yamaha master builders at our Concert Piano Workshop in Kakegawa, Japan
Rims: Mahogany and hard maple
Soundboard: European Spruce
Soundboard Ribs: European Spruce
Back Posts: 4 – Yezo Spruce
Bridge Construction: Two-piece separated
Frame: Hand molded, sand casted iron
Tone Collector: Yes
Key Material: Seasoned Sitka spruce
White Key surfaces: Ivorite™
Black Key surfaces: Ebony
Fallboard: Soft-close
Lid lock: Yes
Pedal: Shift/Sostenuto/Damper with adjustable lyre brace
Caster: Heavy duty double-wheeled solid brass casters with locks
Weight: 901 lbs (409 kg)
More info

Colors / Finishes

Polished Ebony

CF4

Handcrafted by Yamaha master builders at our Concert Piano Workshop in Kakegawa, Japan
Rims: Mahogany and hard maple
Soundboard: European Spruce
Soundboard Ribs: European Spruce
Back Posts: 4 – Yezo Spruce
Bridge Construction: Two-piece separated
Frame: Hand molded, sand casted iron
Tone Collector: Yes
Key Material: Seasoned Sitka spruce
White Key surfaces: Ivorite™
Black Key surfaces: Ebony
Fallboard: Soft-close
Lid lock: Yes
Pedal: Shift/Sostenuto/Damper with adjustable lyre brace
Caster: Heavy duty double-wheeled solid brass casters with locks
Weight: 806 lbs (366 kg)
More info

Colors / Finishes

Polished Ebony