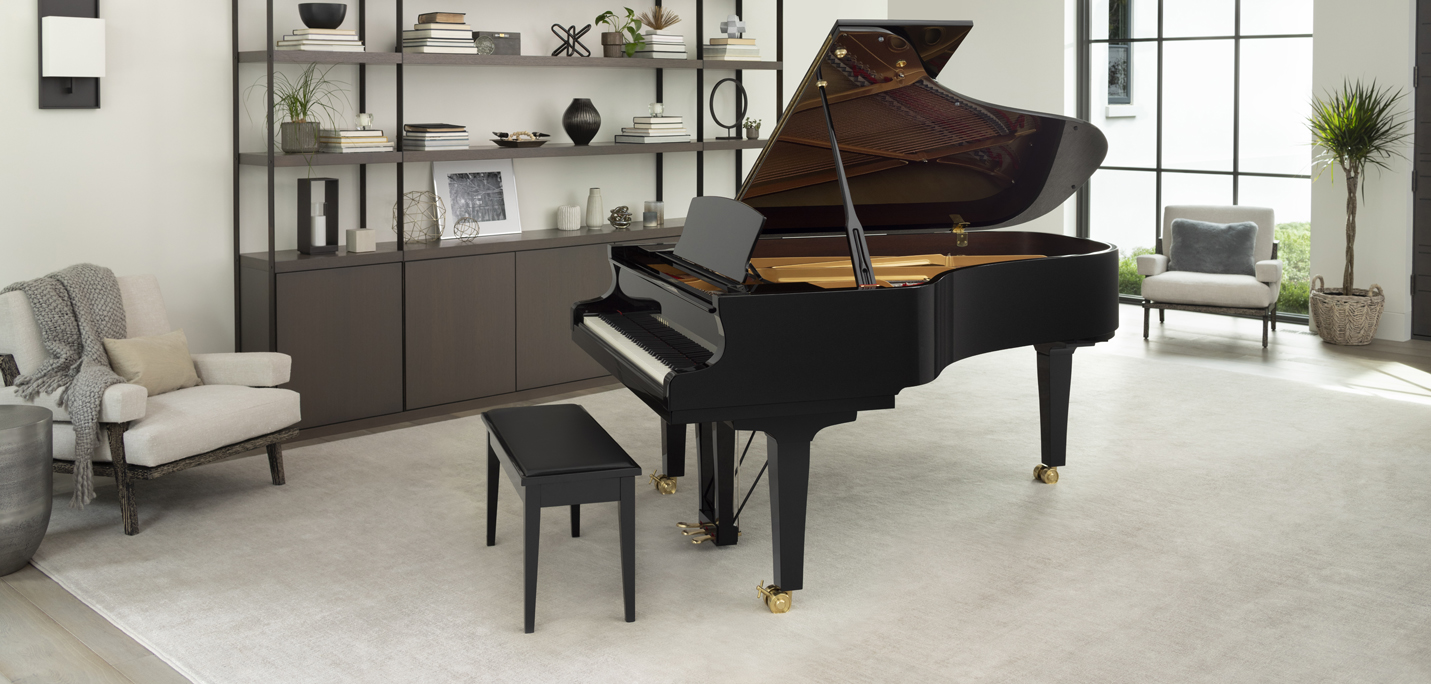 SX SERIES
A more intimate concert grand.
---
We took everything we learned from our Flagship CF concert grand and crafted an instrument that's perfectly suited for the conservatory, recital hall or intimate stage. SX pianos are almost entirely handcrafted and feature our patented Acoustic Resonance Enhancement process to precisely control the aging of wood in the rims for a warm, elegant tone. A completely redesigned hammer helps produce a wide palette of colors with an intimate sound and depth rarely found in a concert grand.
---
Features
---
SX Series soundboards share the same DNA as our world-renowned flagship CFX. The soundboards and ribs are crafted from hand selected European Spruce to deliver warm overtones and a wide range of colors.

A patented wood maturation process we call A.R.E. (Acoustic Resonance Enhancement) allows our craftsmen to precisely control the moisture content in the hand-selected wooden rims of every SX Series piano. The result is a warm, intimate tone with the sustained resonance comparable to a vintage instrument.

The back posts have been thickened to give SX Series pianos a robust backbone to project the most powerful fortissimo while maintaining its rich, resonant sound. A time-honored assembly process decreases the use of glue on the inner and outer rims so nothing gets in the way of the natural vibrations of the wood.

Yamaha craftsmen spent years shaping the finest materials into a hammer that helps create warm, powerful tones with a full range of beautiful, subtle colors.

Our artisans painstakingly wind pure copper by hand to adjust the balance and tension of every bass string in this superb instrument. You can hear the attention to detail in every note.

Each SX Series piano is meticulously voiced, regulated and tuned in our Concert Piano Workshop to bring out the nuanced colors, harmonics and resonance from these superb instruments.

Yamaha was the first company to use an advanced Vacuum Shield Mold casting technology called V-Pro to create a stronger, lighter, more durable frame worthy of the grandest grand piano. Every SX Series frame is built to our exacting specifications at our Iwata Forge in Japan.

The SX Series is made for the stage, with graceful curves that are as elegant and expressive as its unmistakable tone.
The colors and finishes shown may vary from those on the actual products.
S3X, S5X, S6X, and S7X Grand Pianos - Yamaha USA